User Discussion Page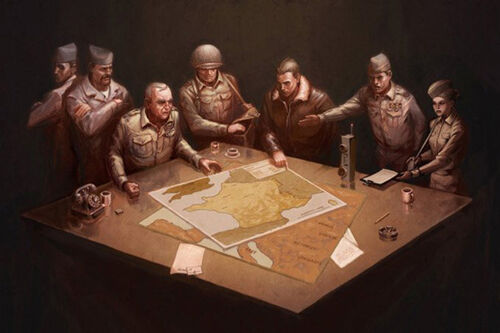 Everything from history to current events to new ideas for a
R.U.S.E.
sequel can be discussed here.
Rules of the Page
Edit
All are welcome to contribute.
Do not deliberately offend another person, if you accidentally offend them, please man/woman up and apologise.
Use one comment to start a point, all rebuttles must be replys.
Please take time and consideration in your answers.
All policies and guidelines are applied here.
Ideas for a R.U.S.E. sequel - Suggest one here
→ Add a suggestion ←
---
Bigger maps
Modding abilities
Naval units.
Campaigns set in the Pacific.
Campaigns set in the Eastern Front.
Protagonist is a German or soviet officer.
More variety of units
Branching story
Nation specific units like Tetrarch for the UK
World War 2 topics - Suggest one here
→ Add a suggestion ←
---
Theoretical Invasion of Britain continuation.
What if Germany had won the war in the European Theatre?
What if Italy had overthrown Mussolini in 1933 and they never joined the Axis?
What if the United States never nuked Japan?
What if Japan had won the pacific theater? after or before Germany surrendered?
What if the Soviet Union joined the axis and Hitler was not anti-Communist?
Cold War topics - Suggest one here
→ Add a suggestion ←
---
Border conflict between the western Allies and the Soviet Union during the late 1940s.
The Soviet Union invades Europe and the US and wins instead of losing
New American president goes insane and nukes the soviet union and China.
The Soviet Union never reaches Berlin and is all but left out of the peace deal between the Axis and the Allies.
Modern Era topics - Suggest one here
→ Add a suggestion ←
---
Third Sino-Japanese War.
WWIII
United States is expelled from the UN due to the Iraq war.
Community content is available under
CC-BY-SA
unless otherwise noted.