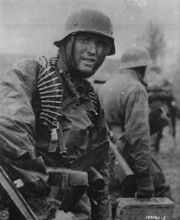 I've always been passionate about military history, mostly German ww2 history. I also have a long line of military blood as every generation so far served their country. Also im from German origins so you can guess that my military heritance is German. I had a great uncle who served under the 2nd Waffen SS Division Das Reich in ww2 and was killed at the battle of kursk. My grand father served in the Nam war.
My gamertag comes from my friends who always called me Beru and so i added Cpl and not Gen (not to sound like a douche) for these represented me quite well.
I take pride in my origins though im not a nazi. i love RTS, RPG and FPS so if any of you wanna play just add me up (Cpl_Beru)* (PSN only) and ill do my best to game it with you guys. im usually up for gaming though im not always online since i work and go to school. Send me messages and ill always answer. I hope to see some invites come in, thanks to everyone helping out with this Wiki.
My favorite pages
Gallery of my Fav units
These are my favorite units to use in the game even though i use every nation these are the ones I'm a master with and use the most. Once i have them in concentration you better be ready because i don't back off once i have you by the throat. So be careful if you see me use these.
The Panther for its versatility in combat and the AR234 for its speed and destruction. And the Jagdpanther just to throw off the enemy tanks that could cause me trouble.
Never let me get these two going or else good luck getting me out of the fight. And I do use recon for those who thought I didn't.