| | | |
| --- | --- | --- |
| | As of December 2015, Ubisoft pulled R.U.S.E. from Steam due to the expiration of the military license, thus the game is no longer sold for PC. However, the game is still available on both the Playstation 3 and Xbox 360 via digital download. More information here: Kotaku, PCGamesN. | |
The Pack of The Rising Sun was the third and final DLC pack for R.U.S.E., released on February 16, 2011.
This DLC gives you the opportunity to command the Japanese Army in solo and multiplayer modes. You will also make the most of 28 new units and factories in 3 exclusive operations dedicated to the Imperial Japanese Army (Gold for the Brave, Ostfriesland, and For Honor).
Features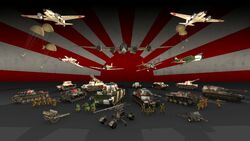 The Japanese faction includes 28 new units.
New operations
Gold for the Brave: In this fictional challenge, gamers will play with the Kentucky National Guard at fort Knox, protecting the Federal Reserve gold until reinforcements from the 1st Armored Division arrive.
Ostfriesland: In this challenge, players will lead a Japanese strike force in Germany. Their objective will be to prevent the British XIIth corp. from establishing a bridgehead into their defense line. Gamers will be able to use infantry, artillery, armored forces as well as prototype weapons, but will have a limited aircraft. An allied German HQ will not build any bases, but will create bunkers to help the player.
For Honour: in this challenge, take command of a renegade division of the Imperial Air Force who refuse to lay down arms and decide to join the Japanese garrison in a desperate and hopeless fight on the island of Java. All around, US, British and Soviet forces are gathering for the ultimate offensive…
See also