| | | |
| --- | --- | --- |
| | As of December 2015, Ubisoft pulled R.U.S.E. from Steam due to the expiration of the military license, thus the game is no longer sold for PC. However, the game is still available on both the Playstation 3 and Xbox 360 via digital download. More information here: Kotaku, PCGamesN. | |
The Manhattan Project Pack was is first DLC pack for R.U.S.E., released on December 21, 2010 on Xbox Live. The PlayStation Network and Steam versions were released a few days later due to issues. The DLC pack is free and is automatically included in the Steam version of the game.
Features
The Manhattan Project DLC Pack offers three new multiplayer maps along with two additional multiplayer modes.
New multiplayer maps
New multiplayer modes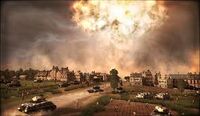 Nuclear mode: All prototype factory units and upgrades will be unlocked from the beginning, and supply depots provide twice as much money. Nuclear Long Toms will be available for production, changing gameplay and player strategies dramatically.
See also