Heinkell He 111 were the mainstay of Luftwaffe bombers (although the Germans did not consider bombers as major strategies compared to their blitzkrieg tactics) but carry a very limited payload. Its dual machine guns also provide it with some protection against fighters. Nevertheless, the He 111 can actually survive in groups without fighter escorts, which make it understandably remarkable to a player's economy. But alone, it has a low survivability probable against enemy fighter, and will be very likely to be shot down. 
History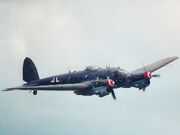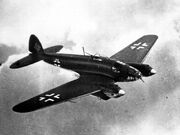 In the early 1930s Ernst Heinkel decided to build the world's fastest passenger plane, a goal met with skepticism by Germany's aircraft industry and political leadership. Heinkel entrusted development to Siegfried and Walter Günter, both fairly new to the company and untested. In June 1933 Albert Kesselring visited Heinkel's offices. Kesselring was head of the Luftwaffe Administration Office: at that point Germany did not have a State Aviation Ministry but only an aviation commissariat, the Luftfahrtkommissaria't. Kesselring was hoping to build a new air force out of the Flying Corps being constructed in the Reichswehr and convinced Heinkel to move his factory from Warnemunde to Rostock and turn it over to mass production with a force of 3,000 employees who would produce the first He 111. Heinkel began a new design for civil use in response to new American types that were appearing, the Lockheed 12, Boeing 247 and Douglas DC-2.
The first single-engined Heinkel He 70 Blitz ("Lightning") rolled off the line in 1932 and the type immediately started breaking records. In its normal four-passenger version its speed reached 380 km/h (230 mph), powered by a 447 kW BMW VI engine. The elliptical wing that the Günther brothers had already used in the Bäumer Sausewind sports plane before they joined Heinkel became a feature in this and many subsequent designs they developed. The design drew the interest of the Luftwaffe, which was looking for an aircraft with dual bomber/transport capabilities. The Heinkel He 111 served on all the German military fronts in the European Theatre of World War II. Beginning the war as a medium bomber it supported the German campaigns in the field until 1943 when, owing to Western Allied and Soviet air superiority, it reverted to a transport aircraft role. Small numbers of Kampgeschwader did continue to operate a small number of He 111s until 1945 in various roles, but mostly at night to avoid Allied fighter aircraft.
German-built He 111s remained in service in Spain after the end of the Second World War, being supplemented by Spanish license-built CASA 2.111s from 1950. The last two German-built aircraft remained in service until at least 1958.
Pros & Cons
Weapons
Weapon

Light bomb
Carpet Bombing

179

179

446

36

18

9

4

2

0 m
Weapon

Small cal.
MG turrets

8

400 m
Gallery
See also