Daimler's improved 'Coventry' Armored Car Mk.2 (in-game: Coventry Mk.2) was intended to replace the Mk.1 in the British Army. Though boasting thicker armor and a heavier 75mm cannon, the price of upgrading and replacing the Mk.1's makes it cost-prohibitive. Even still, its extra weight doesn't slow it down or make it stand out; on the contrary, it still retains its Recon-range perception and ability to hide in wooded areas. From ambush, the Coventry possesses enough firepower to stand up against even medium-class enemy armor.
The Coventry's development was late into World War II. Beginning in June of 1944, sixty-three vehicles had been assembled by the end of that same year, and production concluded with a further 220 vehicles made in 1945. The Coventry was deployed by the British Army, but arrived too late for effective war-time service. Some of these units were sold to France, and later played a role against the Viet Minh in French Indochina.
History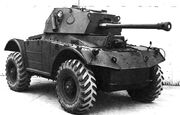 The Coventry was a combined effort between Daimler and the Rootes group to produce a standard armored car design.
The Coventry was an advanced design and featured a similar layout to the more compact Daimler, but with a more conventional suspension and drive system. It included duplicate driving controls to allow rapid disengagement in combat. There were two production versions. The Mark 1 employed a three man turret with a 2-pdr gun and a 7.92mm coaxial Besa machine gun.
The prototypes from Daimler and Humber were produced with a 2 pounder gun. In, 1943 orders were placed for 1,700 vehicles which were to be able to carry the 6 pounder gun. A version - AFVW90 - with a larger turret with a 75mm gun but one less crewman was planned and 900 of these ordered.
Deliveries of the Coventry Mk 1, from the Humber assembly line, began in June 1944 and 63 vehicles had been produced by the end of the year. It was decided, in 1943, that instead of replacing the Daimler production of that armored car would be continued. As a result the order for the 2 pdr Coventry was reduced to 300 and that they would be sent to India. The 75mm armed Mark II did not enter production.
Pros & Cons
-It's expensive and requires development
-It won't beat other upgraded recon.
Weapons
Weapon

Medium cal.
AP Shell

200

25

20

12

8

5

300m
Weapon

.30-cal
Machine Gun

21

21

250m
Gallery
Notes
For only a $25 research cost it is much better than it's predecessor.
Costing $30, the Coventry Mk.2 is a very costly reconnaissance unit, more expensive than most British tanks.
See also
Recon Units and Buildings of R.U.S.E.
United States
Germany
United Kingdom
France
Italy
Soviet Union
Japan