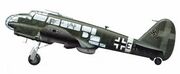 Transporting Italy's Folgore parachute infantry, the Caproni CA 314 must constantly be protected. It shares the title of the lowest resistance of any transport plane along with the Skytrain and a few shots from a machine gun or an AA can shoot down the CA 314 with minimal exertion.
During the Second World War, the CA 314 was an aircraft bomber and is derived from the CA 310.
History
At the Milan Exhibition during 1935 there appeared the prototype of the Caproni Bergamaschi Ca.306 Borea (north wind), a six-passenger low-wing transport. Although built only in small numbers, the Borea was important as the progenitor of a range of light twin-engine aircraft manufactured for a wide variety of roles. The first of these was the aptly-named Ca.309 Ghibli (desert wind), 78 of which were built for use in Libya. The military versions were used as light transports or reconnaissance bombers with a lengthened glazed nose, bomb racks, cameras, and with armament comprising three 7.7mm machine-guns. Another model featured a fixed forward firing 20mm cannon. Seven squadrons equipped with Ghiblis were operational when Italy entered the war in 1940.
Developed in parallel with the Ghibli, the Ca.310 Libeccio (south west wind) was structurally similar to the earlier machine, but was provided with retractable landing gear and powered by two 350kW Piaggio P.VII C.35 radial engines. Export deliveries went to Norway, Peru and Yugoslavia, and this last nation also acquired 12 more under the designation Ca.31 Obis; this variant differed primarily by having an unstepped extensively- glazed nose.
The prototype of the Ca.310bis served as a development aircraft for the following Ca.311. As built they were similar to the Ca.310bis, but most were later modified by the introduction of a stepped windscreen, then being redesignated Ca.311M. Defensive armament of this version comprised a Caproni Lanciani turret with a single 7.7mm machine-gun, complemented by one machine-gun in the port wing root and another firing aft through a ventral hatch. A modified Ca.310 with two Isotta-Fraschini Asso 120 IRCC 40 engines served as the Ca.313 prototype, first flown on 22 December 1939, but France had already confirmed an order for 200 of these aircraft on 1 October, followed closely by British and Swedish orders for 300 and 64 respectively. However, Italy's entry into the war prevented delivery of any of the British machines and France received only five Ca.313F models, the remainder being diverted to the Regia Aeronautica.
The most extensively built version was the Ca.314. Variants included the Ca.314A or Ca.314-SC (Scorta), a convoy escort/maritime patrol aircraft, the Ca.314B or Ca314-RA (Ricognizione Aerosiluranti) torpedo-bomber and the ground-attack Ca.314C.
Trivia
Despite being transport aircraft in R.U.S.E., they were primarily used as bombers during their short use in World War II.
Gallery
See also