The AVRE (Armoured Vehicle Royal Engineers) version of the A22 Churchill was a tank specializing in the quick destruction at short range of enemy fortifications or buildings. Armed with a 290mm mortar dubbed "Petard," it fired 18kg high explosive shells on the enemy. As it has to close in on its target the AVRE is heavily armored, like the A22 from which it originated. Both are, however, quite slow; the main problem will be getting it into firing range before it is itself destroyed. Whenever a round of the AVRE lands on an unarmored objective, it will be destroyed or routed, if routed, the second round will destroy it.
History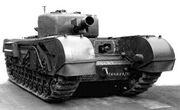 A Churchill III or IV equipped with the Petard, a 290 mm Spigot mortar, throwing the 40 lb (18 kg) "Flying dustbin" with its 28 pound high explosive warhead; a weapon designed for the quick leveling of fortifications developed by MD1. The AVRE was designed after the Canadian defeat at Dieppe, and could also be equipped with numerous other attachments, such as mine flails, fascine rollers, explosive placers etc. Post war the Churchill AVRE was re-armed with a breech-loaded low velocity 165mm demolition gun which was less dangerous for the loader (the hull gunner) as he previously had to stick his head and torso out of the Spigot Mortar armed AVRE to load the Mortar.
The crew of six were drawn from the Royal Engineers, except for the driver who came from the Royal Armoured Corps. One of the RE crew was a demolitions NCO sapper responsible for priming the "Flying dustbin" and who led the crew when they dismounted from the tank to place demolition charges ("Wade" charges). The AVRE fires only once, and then reloads, and the reload time is from 9 to 10 seconds, but, it is extremely accurate for a World War 2 weapon and its damage is very high, but it should not be used against armored targets.
Notes
The AVRE has similar performance to Germany's Sturmtiger and France's ARL 40.
The AVRE devastates infantry and light tanks, especially when grouped.
The AVRE is perfect for destruction of enemy structures.
The AVRE should be escorted by tanks and/or infantry.
Pros & Cons
!OBS! the current version of this SPG only has 700m range, the dps is unchanged. -Juli 2018
+It can be noted as one of the best mobile artillery in the game.
Heavy armor, high dps, fire on the move and MG to defend itself.
+The dps and price is the same as the Sturmtiger.
The AVRE is just faster, can fire on the move and will protect itself.
-It's rather expensive to set up a prototype factory for this unit.
Weapons
| Weapon | | | | | | | | | | |
| --- | --- | --- | --- | --- | --- | --- | --- | --- | --- | --- |
| Hvy Assault Gun | 43 | 43 | 43 | 9 | 4 | 2 | 1 | 0 | | 1.2km |
| Weapon | | | | | | | | | | |
| --- | --- | --- | --- | --- | --- | --- | --- | --- | --- | --- |
| .30 cal. Machine-gun | 21 | 21 | | | | | | | | 250m |
Gallery
See also