The 34th Infantry Division was activated during World War II on February 10, 1941. The Division made a good showing at the Louisiana Maneuvers. As the first U.S. Division to be shipped overseas, Pvt. Henke of Hutchinson, Minnesota was credited as being the 1st American Soldier to step off the boat in support of the war effort.
The Division participated in six major Army campaigns in North Africa, Sicily, and Italy. The Division is credited with amassing 517 days of continuous front line combat, more than any other division in the European theater. Portions of the 34th Division are credited with over 600 days of front line combat. The Division suffered 21,362 casualties, of which 3,737 were killed. Members of the Division were awarded 11 Medals of Honor and 98 Distinguished Service Crosses.
In R.U.S.E. they participate in the The Battle of Cherbourg as part of the 9th Infantry Division.
History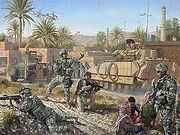 The U.S. Army Rangers trace their lineage through the 34th Infantry Division. During WW II, the 1st Ranger Battalion was formed under the command of one of the Division's officers, CPT William Darby. Eighty Percent of the 1st Ranger Battalion's volunteers were drawn from the 34th, and they soon became famous as "Darby's Rangers". The 34thID (now the MN National Guard) are also credited with the longest tour in Iraq of 729 days.
See Also